Welcome to APT's new website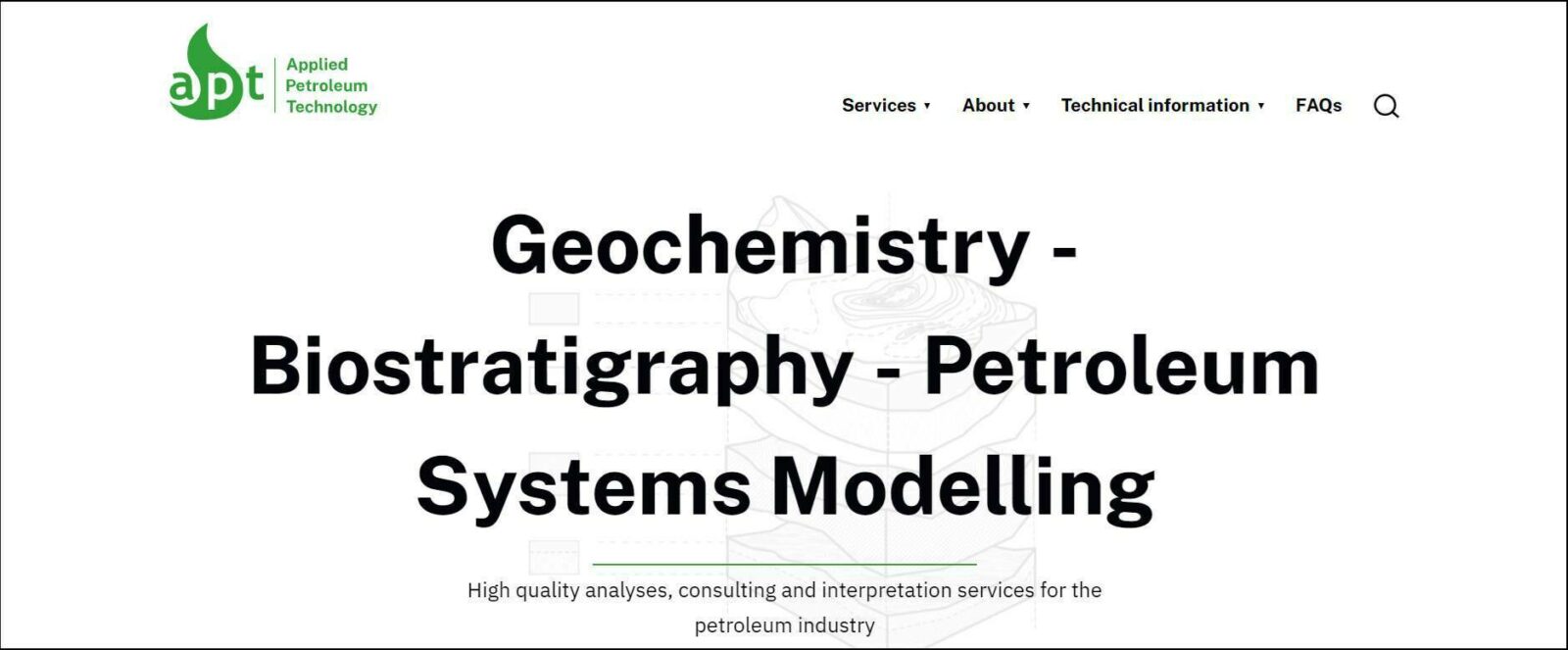 24 August 2020 – Applied Petroleum Technology (APT) has launched its new website which presents existing and potential customers with a more thorough and up-to-date overview of APT's services and products.
"As one of the leading companies in the fields of geochemistry, biostratigraphy and basin modelling, APT needed a website that better reflected its high-calibre staff and the carefully considered technical approach they apply to their projects. The new website is modern, more intuitive to navigate and provides a great overview of APT and all the services they are proud to offer," says APT's Dr Rachel Gavey, who has managed the new website project, with support from British web design agency Buffalo.
New features on the website include:
Improved interactive map feature to allow you to view all of the studies and databases APT have available to purchase right now - note that APT are able to offer analysis on other samples in addition to the ones shown
Full breakdown of all of the services offered by APT in an easy to view format; geochemistry, biostratigraphy, basin modelling
Ability to search for services by sample type to assist with gaining the most information from your samples
Comprehensive searchable technical glossary and best practice guide providing details on all the methodology APT uses for sample preparation, geochemical analysis and basin modelling
Details on the bespoke developed APT software to assist with interpretation of your data, including the new Girasol wellsite gas analysis software
Introducing the newly launched APvT database containing a wealth of information on fluid data to provide insights into expected fluid types
Meet the team and read about the wealth of experience that APT has at its disposal
Learn about the history of APT
Learn more about the state-of-the-art laboratory equipment APT uses in its various offices
Coming soon - details on the key partnerships APT has with other labs and organisations to offer its clients an extended list of services
News and technical articles showcasing APT's relationships, project and technical know-how
A list of frequently asked questions including how to send samples to APT's laboratories and how much sample is required for each analysis
"Rachel has proven that she's a bit of a chameleon: petroleum system analyst at day and website developer at night! Everyone at APT are proud of how she has managed the website project. Almost the entire world went into Covid-19 lockdown in the middle of the project, but this did not affect Rachel and the website progress. We are very proud with the end-results and are confident that our clients find the new site to be very helpful," says Helge Nyrønning, CEO of APT.
New URL
APT has also changed the URL of its website from www.aptec.no to www.apt-int.com.
This change reflects the fact Applied Petroleum Technology has gradually become better and better known as "APT" in all markets we operate, including the North Sea. In addition, APT's services within geochemistry, biostratigraphy and petroleum systems analyses, plus our Europe-based laboratories, are increasingly utilised by operators all over the world. Hence, the change to a more suitable URL.