Meet Lloyd Jones: APT Geochemist & Petroleum Systems Analyst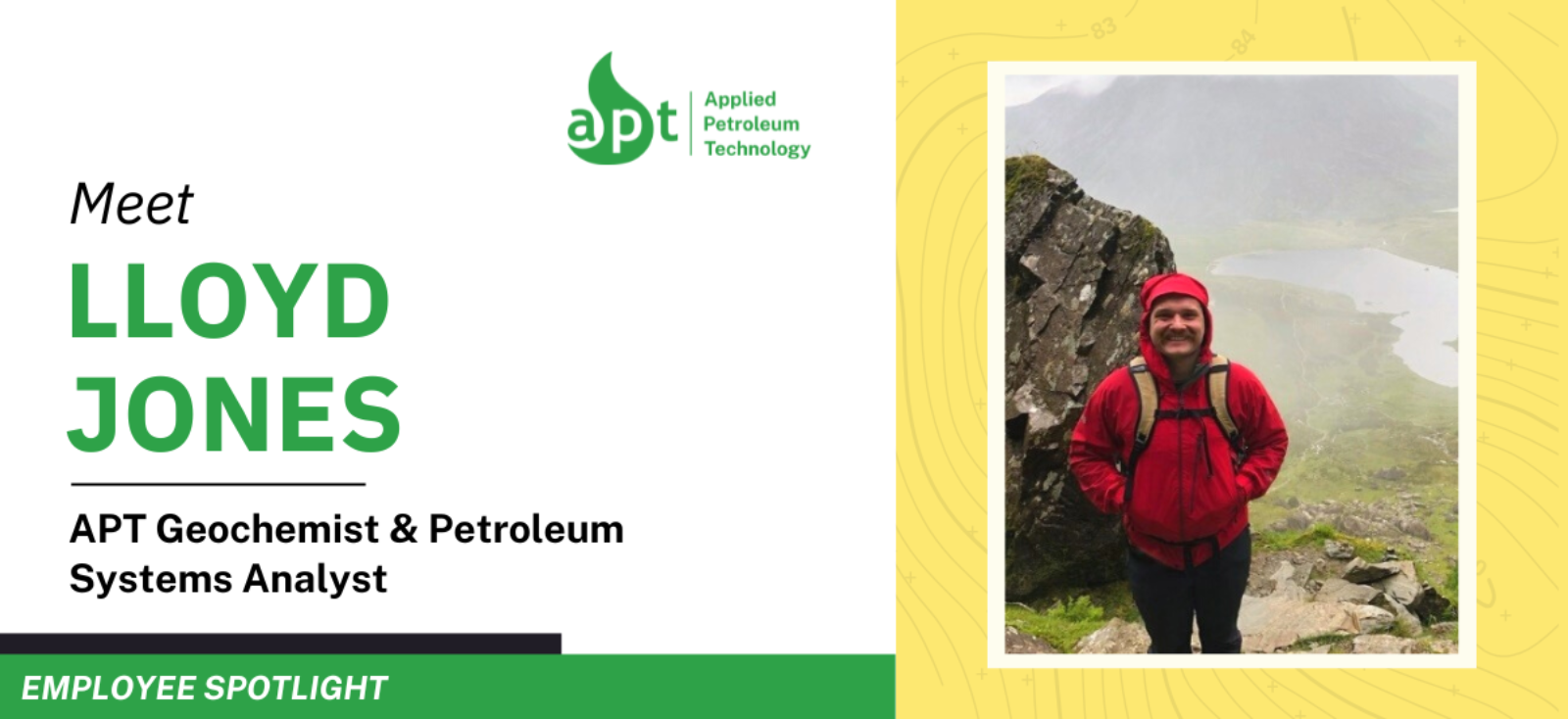 Today we introduce Lloyd Jones, Geochemist & Petroleum Systems Analyst at APT. Mr. Jones has been with APT for over 6 years and has gained extensive experience over the last 5 years working on a variety of international multi-well regional studies (Canada, UK, and Bolivia) and single-well geochemical studies (UK and NW Europe).
What sparked your interest in geochemistry, and what are you most passionate about?
I first got involved with geochemistry and APT during the summer break of my second year at university. My undergraduate degree had an emphasis on mining geology, so I had never really had any exposure to geochemistry or the oil industry, but I spent a summer sorting and cataloging legacy oil, cuttings, and core samples and haven't looked back!
I have been with APT for 6 years now, and during this time, I have been able to explore the different analytical and consulting services APT offers and focus my time and skill on what I really enjoy; petroleum systems analysis.


Tell us a bit about your role at APT and what you do day-to-day.
APT works on a variety of projects and offers a wide range of services, so it is hard to say that any 2 days are the same! I feel quite fortunate to say I get to work on a range of projects covering source rock evaluation, optical maturity assessment, and oil and gas characterization to wellsite gas evaluation and basin modeling. My role as a petroleum geochemist and petroleum systems analyst means I help in a variety of capacities, from doing the less glamorous grunt work and sample preparation to data compilation right up to being the project manager.
How have your past experiences helped/shaped you for your current role?
After I completed my master's degree, I worked briefly for RockWash GeoData, where I gained important skills in the preparation of samples prior to analyses and, in particular, the impact and removal of OBM from ditch cuttings samples. You would be surprised how much insight you can glean from just looking at a rock sample!

Is there any advice you would give students looking to build a career in geochemistry?
I think modern geoscientists have to wear a lot of hats, so it is important to develop a range of skills across the sector, from exploration to production. The energy transition is becoming increasingly apparent, so repurposing O&G workflows for CCUS and wind farm development will be key in the coming years.

During your time at APT, what has been your most memorable experience/project and why?
It's hard to pinpoint just one memorable project over the past 6 years, but a few projects do stand out. Being the project manager on APT's most recent multi-client study was a great experience; the study evaluated the petroleum systems of the MNSH, where we identified Zechstein source rocks and compared these to known Zechstein and Carboniferous oil stains and fluids which was very interesting.
Recently, I have been using APTs wellsite gas software, Girasol. It is a neat bit of software and gives you great insight into the hydrocarbon phase and missed pay.

What do you find most interesting when working on 1D and 3D basin modeling? What's an interesting or surprising fact most people don't know?
Modeling source rock generation expulsion in 1D and 3D can often be oversimplified and is more complicated than the standard gas expels when oil does model. APT recently completed a large basin modeling study in the Central North Sea, where particular emphasis was given to the parameterization of the source rocks, encompassing thickness, richness, and expulsion.
Insights gained from the technical analysis of unconventional plays have shown that the storage potential of a source rock significantly impacts the retention of oil and/or gas in the source rock and, therefore, the amount of oil cracked to gas during maturation.

What are you most looking forward to in the coming months? (personal and work-related)
In November, I'll submit an abstract for the 64th Society of Petrophysicists and Well Log Analysts symposium, covering the wellsite gas evaluation of exploration, appraisal, and production wells of the Lower Cretaceous Captain Formation, Blake Field. APT has wanted to review variations in wellsite gas responses across a producing field for some time, so it's great to be given the opportunity to take the lead on this.
On a personal level, my girlfriend and I will start planning our holiday to Sri Lanka, which will be very exciting!

Outside of work, what is your favorite pastime and why?
Outside of work, I am a keen rugby player. I played for Newcastle University 1st XV during university and currently play for my local club, where I've been playing since 2006. I also love to cook because it's a great way to unwind after looking at biomarker data all day!