Meet Dr. Julian Moore: APT Group CTO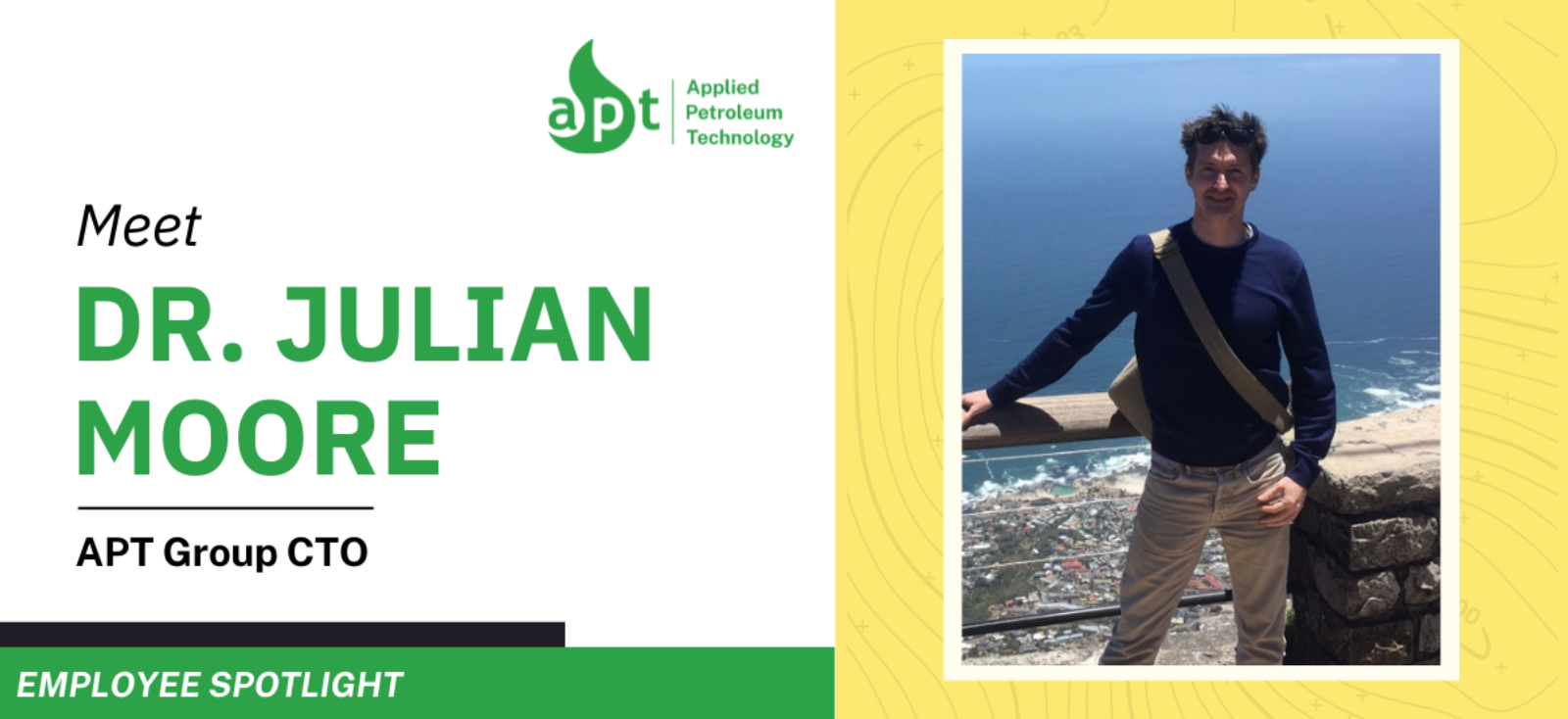 Today we introduce Dr. Julian Moore, the Chief Technical Officer (CTO) for the APT Group. Dr. Moore has been with APT for over 6 years, initially as the Technical and then Managing Director of APT UK before being appointed CTO at the group level in 2021.
How did you become interested in geochemistry, and what are you most passionate about?
My interest in geochemistry stemmed from an early education in geology which eventually led me to obtain an undergraduate degree (B.Sc.) in geological sciences at the University of Plymouth. Not long after I began exploring courses relevant to the energy sector resulting in completing a M.Sc. and Ph.D. in Petroleum Geochemistry at Newcastle University.
While working at BP Exploration earlier in my career I was able to experience the benefit of working with a wide range of people from diverse disciplines, seeing how they all integrated together. During this time I discovered a passion for the bigger picture and combining different data types to build insight and propose solutions.
How have your past experiences helped/shaped you from your current role?
Since joining APT the industry has gone through some challenging phases that we've had to navigate our way through which has been formative. I have also been exposed to a large range of projects and clients and haven't stopped learning technically and commercially, both from colleagues in APT and from our clients and partners.
In terms of past experiences, leaving a major corporation to work in a much smaller company that operated in the service sector was quite a change and a very steep learning curve! My everyday work is pretty diverse, from creating marketing presentations, business administration, presenting to the APT Board and technical consulting (the bit I really enjoy).
Do you have a favorite memory while working at APT?
It's hard to reduce my time at APT to one particular memory as I've learned a lot in the last six years, which have really flown by. We have faced both successes and disappointments in a market that has been challenging since the day I joined. The joint effort between myself and my coworkers to strive towards ensuring APT has been positioned for success is a prominent memory of what we have done so far as a team and an intent for what we plan to do in the future.
Can you tell us a bit about the Girasol software and what your vision for it moving forward is?
There is wellsite gas data collected on every well we drill, and yet, it's surprisingly common for this data to barely be used, especially after a well has been completed. With our Girasol software, we are trying to show companies the true value of this data while also making it easy to work with and integrate with other data types.
There are two principal functions in Girasol, one is a simple method for determining where 'pay' zones are. These are zones where the petroleum saturation is high enough to yield a good flow to surface. The second function is a method to go from the gas composition to a gas-oil ratio (GOR) which is a fundamental property of a petroleum fluid.
We are continuously coming up with different ideas for new functionality in the software and overall it has proved to be a valuable and successful consulting tool.
You are giving a presentation at the deep water symposium in NOLA in a few weeks. Can you tell us a bit about the topic?
My talk is titled "Well site gas for reservoir evaluation" – and the intent is to give an overview of how well site gas is measured, how it should be processed and corrected, and once that is done, how we can use it to gain insight into the section we have drilled.
So, I go into defining pay using gas data and then how you can link gas composition to GOR, which determines fluid type. In the Gulf of Mexico, you can encounter oil with biogenic gas mixed in with it. This makes GOR prediction more challenging, and I run through a couple of simple methods to try and get around that using only compositional data.
What are you most looking forward to in the coming months? (personal or work-related)
I'm traveling out to Australia and SE Asia at the end of the year to meet with our JV partners MGPalaeo, introduce APT to new companies, and present at the Asia Petroleum Geoscience Conference & Exhibition (APGCE). It will be great to travel again while also seeing family in Australia, so it's a trip I'm excited about both for business and personal reasons.
What is your favorite pastime outside of work?
There are a few things l love to do. I really enjoy cooking – it's a great way to relax, and hopefully, if all goes well, you end up with something tasty. I also love getting into the mountains to snowboard. It's a beautiful environment, and snowboarding through fresh powder is a sensation that is hard to beat!
What advice would you give young professionals pursuing a career in geochemistry?
It is clear that we need to start making changes as a society on how we obtain and use energy, but we can't sustain our economic system with an immediate move away from fossil fuels, and nor can we carry on as normal. In my mind, that puts greater emphasis on mitigation strategies such as CCUS, which should offer opportunities for people with some knowledge of inorganic geochemistry.
One clear win is dealing with a leaking infrastructure. These methane emissions are a serious issue, and fixing them makes good business sense. Innovative ways to find and track these leaks can and should involve geochemists, so while the future feels more uncertain than ever, I would always encourage young professionals to educate themselves on what geochemistry offers, especially when combined with engineering and geoscientific skills.
Oil and gas will come to an end one day in the far-off future, but there will always be interesting problems to work on!