Meet Geir Hansen – General Manager, Geochemistry and Basin Modelling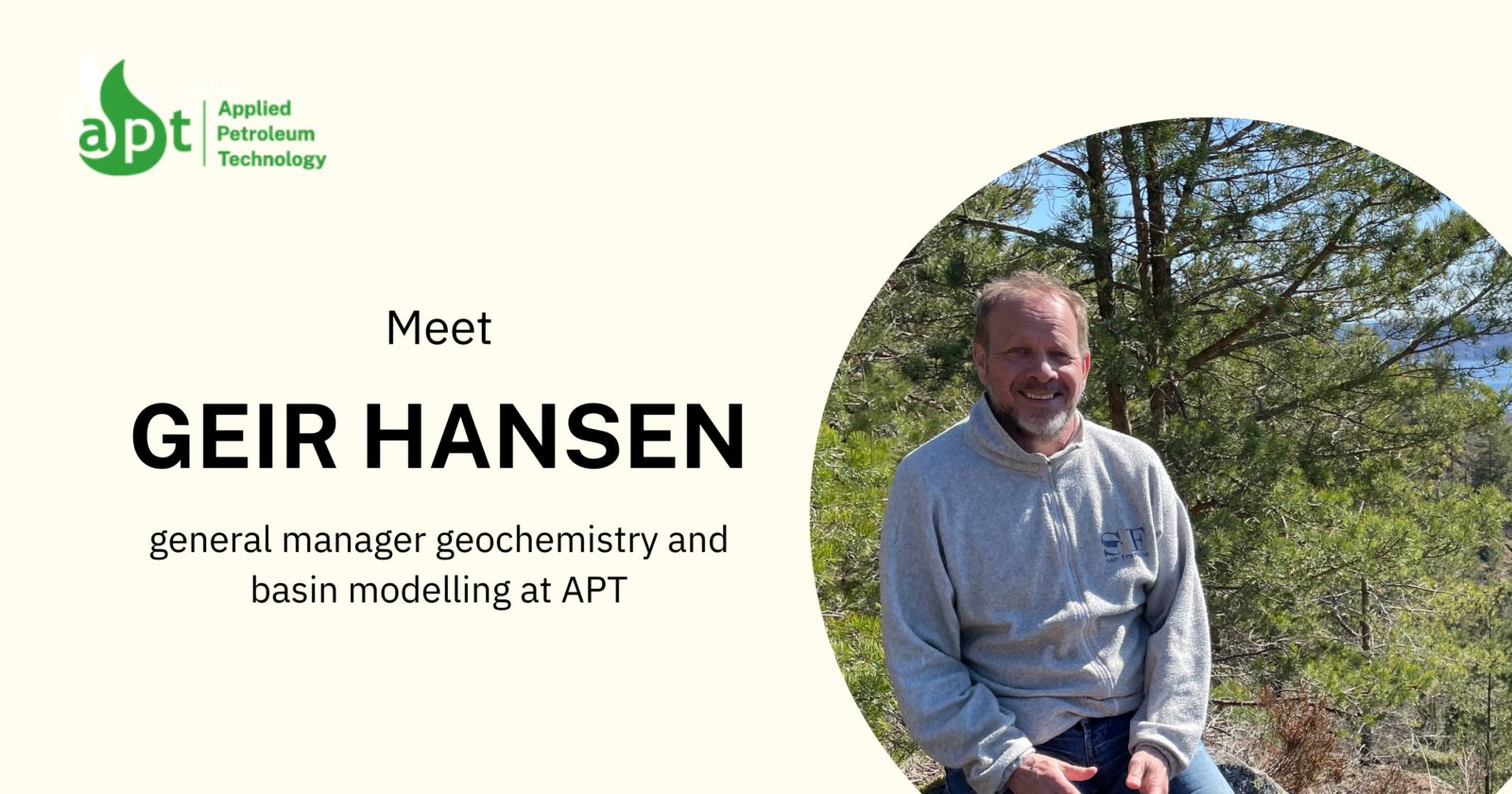 No two days are the same for Geir Hansen, APT's General Manager within Geochemistry and Basin Modelling. He ended up in APT as a coincidence but today, nearly 20 years on, he would not have had it any other way.
Geir Hansen grew up in Telemark – a historic inland region of southern Norway, known for its vast forests and valleys, and as the birthplace of skiing. Just like many other geologists and geochemists, he loves being outdoors, in the Norwegian woods, mountains or at sea.
"There is probably no basis for claiming that one actually needs to be an outdoor person to succeed as a geochemist or geologist, but it is a fact that many of us have a positive relationship to nature and activities there. I believe that getting out and listening to nature is the simplest and best form of mental hygiene and recharging of both physical and mental batteries," he says.
Having worked at APT for almost 20 years, Geir Hansen stresses that there are few fun facts about him that his colleagues do not know about.
His years in track and field – both as an athlete and coach – are for example well-known to most. And although geology and geochemistry are very different, he does actually use traits cultivated in track and field in his job today.
"Working in a consulting company like APT is both exciting and challenging. You are constantly in contact with companies and people who have different needs, and it is exciting to work as a team and make everyone satisfied with our services and choose to return to APT," he says, emphasising that the many different projects he has worked with during his time with APT have given him a broad understanding of petroleum geology.
No day is the same
Geir got into geochemistry after having finished his military service and did his studies at the University of Oslo (UiO). He holds a bachelor's degree in chemistry and sedimentology and a master's degree in petroleum geochemistry.
"Taking a degree in geochemistry became a natural choice when I had to choose a direction for my masters. I got the opportunity to immerse myself in a combination of the most exciting subjects, sedimentology and organic chemistry and analysis. At the end of the 1980s, when I studied, organic geochemistry was a new subject at UiO, with a completely new laboratory where I could do my own analyses in connection with my master's thesis. Also, I had good supervisors, so the choice was relatively easy," he says.
Depending on what requests and orders come in, his days are often spent on a highly variable mix of communication with customers, project administration, preparation of new project proposals and offers – plus of course personnel and operational activities.
"My days are very varied, and also very exciting."
According to Geir, joining APT in 2004 was a bit of a coincidence.
"I knew the APT founders from earlier and asked the then general manager Tore Haaland if he could be a reference in connection with a job application. A few weeks later, he called and invited me for lunch which resulted in a job offer – and that was the start of a long working relationship with APT," he says.
The first ten years at APT, Geir worked as senior geochemist doing all types of reporting and consultancy towards clients, and always with focus on building APT's comprehensive multiclient oil and source rock data bases. In 2014, he was appointed as general manager of the geochemistry group and laboratories.
"I have never regretted joining APT. I have had the great privilege of almost 20 years with good colleagues, being involved in building up APT to become the leading player in geochemistry – always with new and exciting challenges waiting around the corner."
Be curious
Geir says he would encourage anybody with an interest in geology and geochemistry to consider working with APT.
"When hiring, we look for people with a broad professional and practical background, relevant competences, ability to take in and work constructively with feedback, and then of course people who can think and work independently and be curious about new challenges," and leaves one advice for young geochemistry students:
"Always listen to experience, but always question the widely accepted truths. In short, be curious."