Meet Dr. Marie-Caroline Blanc: General Manager - Biostratigraphy Department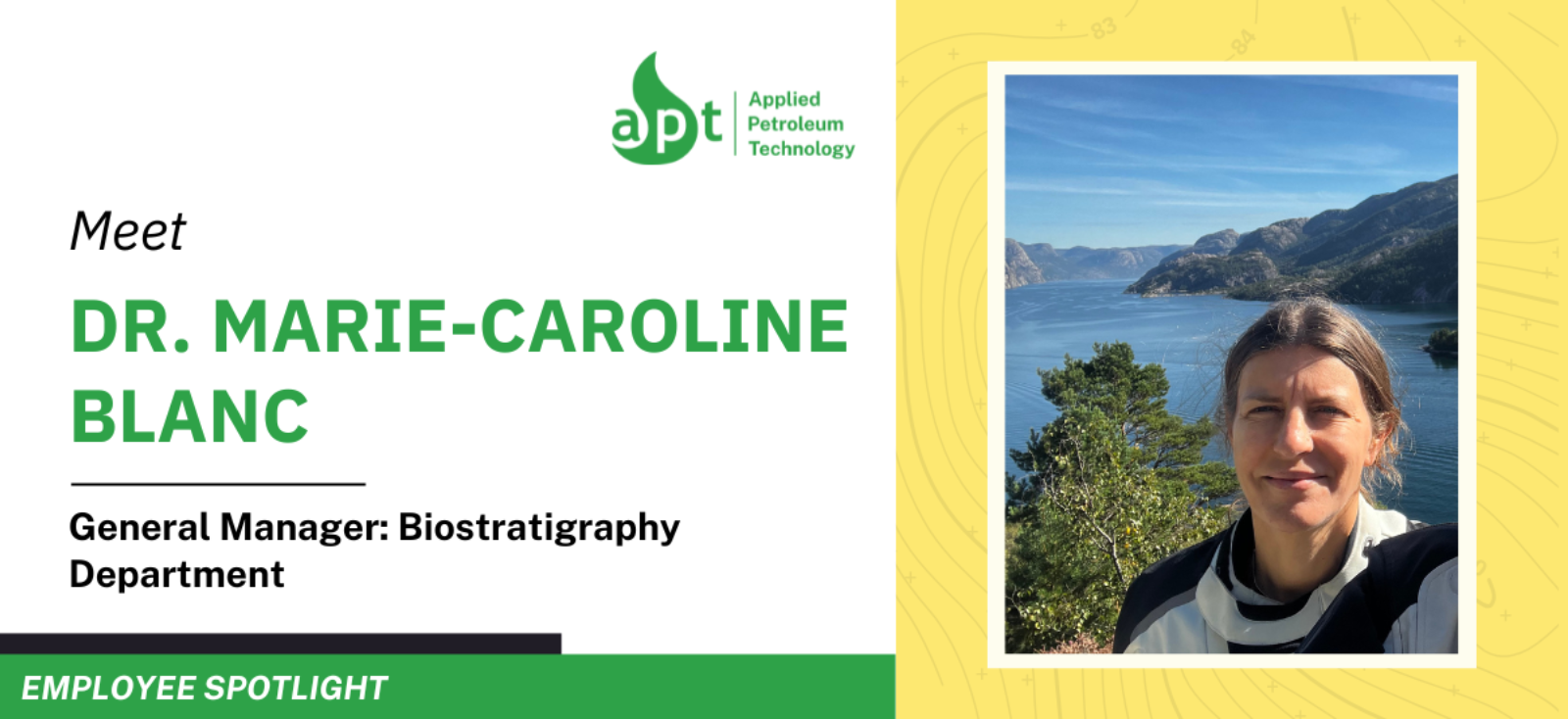 Today we would like to introduce Dr. Marie-Caroline Blanc, General Manager of APT's Biostratigraphy Department. Dr. Blanc has been with APT for over 15 years, joining our team after moving to Norway in 2008 to resume her geological career. Currently, Dr. Blanc and her team are working on an exciting AI software tool that will soon be going into the testing phase, specifically designed to learn and train itself to recognize fossils.

What sparked your interest in biostratigraphy, and what are you most passionate about?
I grew up in Saint-Etienne (France), famous for its carboniferous coaly sandstones. On the way to school, I remember collecting siltstones with ferns and other fossils. I could have become a Palynologist or a Paleobotanist if I had not encountered micropaleontologists during my studies in Grenoble.
Tell us a bit about your role at APT and what you do day-to-day.
I am a biostratigrapher specializing in dating sediments by identifying the microfossils assemblages they contain; tracking the extraordinary changes that time and evolution have brought to organisms through geological records. Depending on the type of sediments, the microfossils are separated from sediments through washing and are identified under binoculars. They can also be observed in thin slices of rocks only a fraction of a millimeter thick.
The microfossils I deal with are typically less than a few millimeters in size and lived in ancient seas. The groups of fossils I analyze are called foraminifera, ostracods, radiolaria, diatoms, or any biogenic fragment preserved in the samples. The assemblages of fossils are used to assess the stratigraphic ages of each sample and are collected at a specific depth within the wells. Overall results are then evaluated together with palynology findings before giving the best age interpretation.
Ahead of the micropaleontology or palynology analysis, I contact the companies and set up projects to provide optimal biostratigraphic services and solutions for the industry. Besides my technical roles, I am in charge of the biostratigraphic group with daily internal management tasks.
Can you tell us a bit about your Ph.D. work and how it influenced your career?
My Ph.D. subject was based on outcrop-based studies of problematic Early Cretaceous shallow marine carbonate platform deposits in the Swiss Jura and the Vocontian Basin in the western Alps. The dating of these units has always been a challenge, and I focused on the depositional settings, paleoenvironments, and biostratigraphic records. The benthic foraminifera assemblages proved to be a useful complement to mapping the discontinuities and assessing the stratigraphic gaps in the sedimentation and the extent of subaerial exposure. Towards the internal parts of the platform, the cumulated time span of sedimentary record shrinks to duration shorter than the time span missing sedimentary record.
During my PhD, I used to look at thin sections (thin slices of rocks, 2D) cut in limestones, but now I mainly look at disaggregated rocks and whole fossils. It is always a pleasure to be able to date sediments, even though geology and foraminifera are different on the NCS. Having spent much time logging sections on the outcrops means I am well aware of the key importance of the geological settings when working on wells.
Is there any advice you would give students looking to build a career in geology and biostratigraphy?
Biostratigraphy is a classic discipline of sedimentary geology that's often overlooked. I think it is important to keep in mind the reality of the geology; particularly true when you look at fossils through a microscope and from samples coming from a well and when so many technological tools are available.
We should always appreciate the value of learning the fundamentals of geology in the field, integrating the basis for any geological studies, field mapping, field logging, and sedimentological context. My advice would be to zoom in and zoom out your focus and never lose contact with the bigger geological picture.
Since joining APT in 2008, what has been your most memorable experience and why?
I have been working for APT for 15 years on various projects. I remember one in particular in the North Sea, where the excitement grew as we were working on hot shots (urgent sample analysis) in addition to other analyses, as the operator was drilling a well on the structure known as the Johan Sverdrup discovery. It was a lot of pressure to handle, but we managed and are proud to have been a part of this journey.
What are you most looking forward to in the coming months?
Micropaleontology and Palynology are classic disciplines; the development of new technologies is an opportunity to bring them into a more modern approach. Our team of palynologists is working on a research project to develop automated ways of analyzing samples and helping identify palynofossils.
The AI software will soon be going into the testing phase and is specifically designed to learn and train itself to recognize more and more fossils. Palynologists will continue to be needed for interpretation. We have to ensure that the fast AI-assisted determinations are correct, but it will help save time, bringing a new way of working and boosting the use of biostratigraphy.
Outside of work, what is your favorite pastime and why?
I practice yoga as often as I can. I also love taking my dog for a walk to breathe fresh air after work. On long weekends, I enjoy exploring new areas looking for historic sites or beautiful (and often geological) landscapes during motorbike tours with my husband.
Click here to read past employee spotlights.