Meet Dr. Fredrik Wesenlund: APT Petroleum Geochemist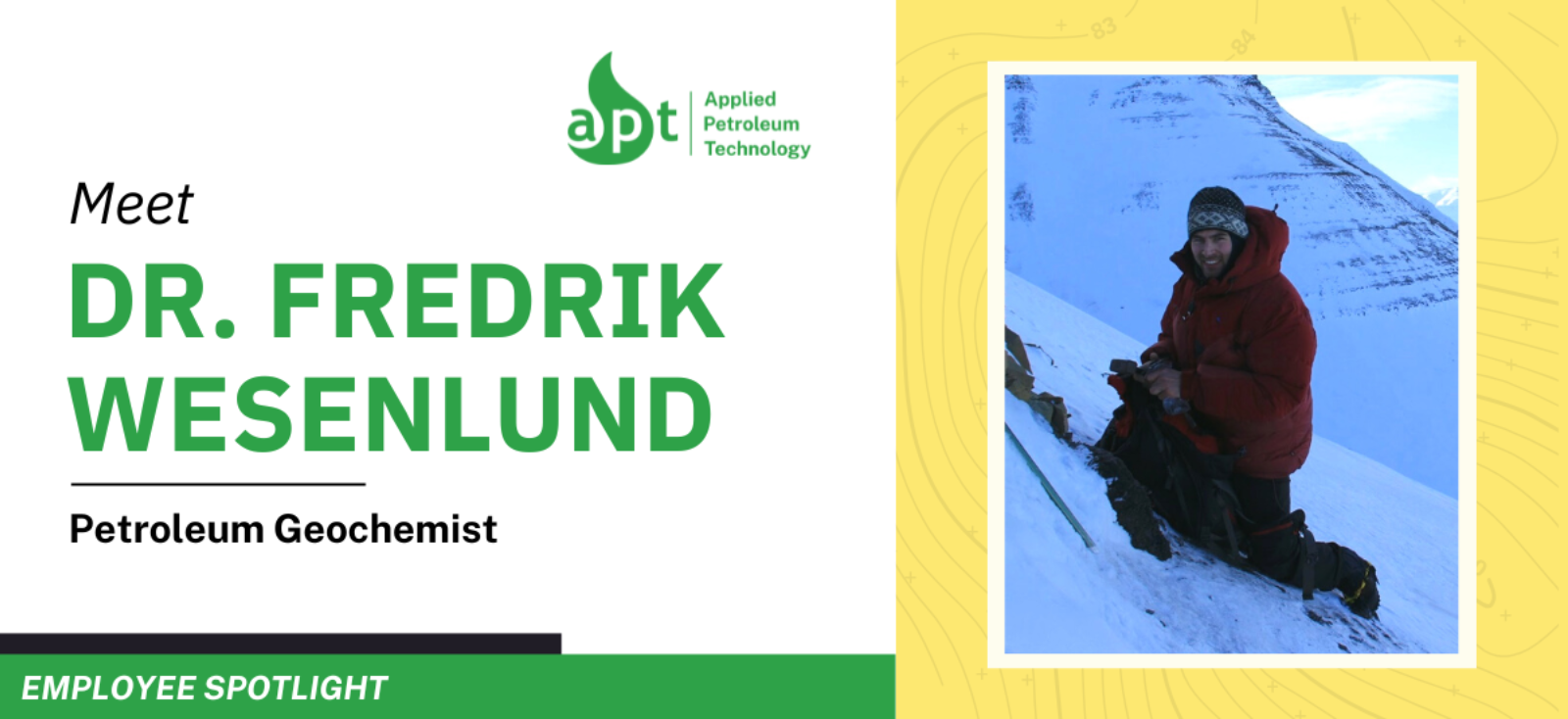 Today we would like to introduce Dr. Fredrik Wesenlund, one of APT's newest petroleum geochemistry hires. Having recently graduated in 2022 with a Ph.D. from UiT, the Arctic University of Norway, Dr. Wesenlund brings his passion and experience to our head office in Oslo, Norway.

What sparked your interest in geochemistry, and what are you most passionate about?
I was first introduced to organic geochemistry during my M.Sc. degree at the University of Oslo in Norway. During this time, I found myself amazed by how much data a single drop of oil could contain, telling us a story of past events through geological time because of a series of biological and geological processes and elements.
This exposure during my M.Sc. led to my passion for furthering my understanding of how these complex factors work.
Tell us a bit about your role at APT and what you do day-to-day.
Currently, I work as a project manager and petroleum geochemist, keeping track of projects from start to end. My role also includes communicating and defining the project with the client, registering samples and analytical programs upon sample retrieval, data reporting and interpretation, and, ultimately, sending the finished product to the client.
My day-to-day tasks can vary quite a bit! There's a decent amount of variation between projects, with some requiring optical work with lithological descriptions of legacy core chips and others the interpretation of gas isotopes leaking from the seabed at the wellsite.
Can you tell us a bit about your Ph.D. work?
My Ph.D. dissertation explored the relationship between organic productivity, preservation potential, and sedimentation rate of a mudstone-dominated Lower–Upper Triassic outcrop section in Svalbard, the high-Arctic archipelago located in the northwestern corner of the Barents Sea. The aim of my Ph.D. was to identify how these processes varied during the Early–Late Triassic and how that affected the Triassic source rock potential on the Norwegian Barents Shelf.
Through this, we discovered that global Triassic climate change may have affected the nutrient supply and preservation potential and, thus, the Triassic source rock formation in the Barents Sea. Drop me an email if you'd like to learn more!
What drives your passion for Arctic field work?
Although fieldwork in Svalbard might seem a bit uninviting given the harsh weather conditions, possible polar bear encounters, and overall lack of modern comforts, it's a geological treasure chest due to the excellently exposed glacier-formed sedimentary rocks and lack of vegetation. Thus, my passion for Arctic fieldwork lies in the fact that you get to experience the rare opportunity to walk and climb continuous strata—laterally and vertically—and record their properties in situ, a geologic luxury that is not possible through cuttings or cores.
Is there any advice you would give students looking to build a career in geochemistry?
I would strongly encourage students to look into computer coding, as I believe it will become increasingly important in all aspects of geoscience. I say this from experience because writing code has helped me automate tedious data formatting tasks and has allowed me to further explore geochemical data.
I would also suggest following the sample from the very start to the very end for any geochemical project because I believe that there's an important learning outcome that comes from this. The steps you can take to do this are: planning and performing the sampling, analyzing the samples in the lab, assessing lab results, making relevant interpretations, and finally, writing together your report/thesis.
Since joining APT in 2022, what has been your most memorable experience and why?
What immediately came to mind was compiling my first data and interpretation report and sending it to the client. While the report was relatively short, it was a pivotal moment for me, having been in an academic environment for almost 10 years prior to joining APT. Applying my academic background to specific commercial tasks and creating value has been an important goal of mine. Finally, being able to do so makes this the most memorable moment thus far.
What are you most looking forward to in the coming months? (personal and work-related)
I most look forward to further developing my hard and soft skills as a part of the APT team to provide the high-quality deliverables APT is known for and to get to know our clients around the world. On a personal level, as I've recently moved to Oslo from Tromsø, I look forward to continuing to explore what Oslo has to offer with my girlfriend.
Outside of work, what is your favorite pastime and why?
Outside of work, my favorite pastime is hiking and snowboarding, the latter whenever possible. To experience nature's grand scenery from a mountain top or valley bottom is something I cherish and probably one of the reasons why I became a geologist in the first place. I'm also very passionate about music and love exploring new artists and going to concerts.
Click here to read past employee spotlights.