Full biostratigraphy service offering
APT offer a full biostratigraphy service from development of a well evaluation program to sampling, analysis, integration of data and final reporting. We aim to provide all data and interpretation within 10 weeks of receipt of final samples.
Well evaluation includes:
Full biostratigraphic processing
Analyses and interpretation using palynology, micropaleontology, and nanoplankton within the relevant area and accounting for geological context
Detailed stratigraphic analyses of Tertiary, Mesozoic and Palaeozoic sections
Regular project reporting on progress and key findings
Full consultation during the project to ensure outcomes are tailored to our clients' needs
A final report focused on the geological implications and applications of the data
The interpreted microfossils trapped within the samples provide important insights into the age and depositional environments of the rock layers. Results from these studies can be utilised to create models of basin bathymetry & paleoshorelines, recreate the paleoclimate & ocean conditions, and identify dissolved oxygen concentrations, salinity, pH & nutrient flux of the water at time of deposition.
Our biostratigraphic breakdown is based on the identification of APT's carefully established zonation schemes. All of our work can also be calibrated to your preferred sequence stratigraphy scheme if required.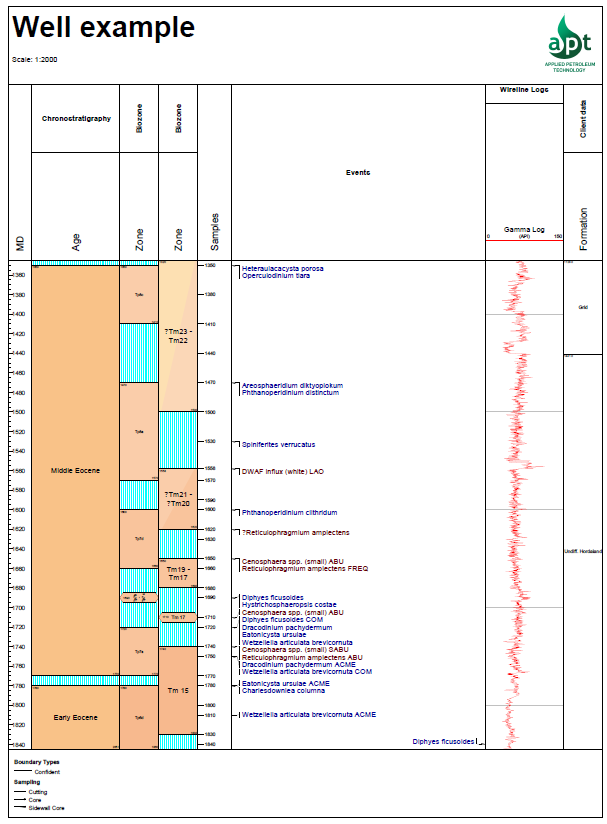 APT's wellsite and routine biostratigraphy are enhanced with each other's experience and observations. Constant re-evaluation and correlation of data is possible thanks to an already large and continuously expanding wells database.
Our experienced staff works in close collaboration with our clients through all stages of the interpretation process to ensure the results are relevant and within context.